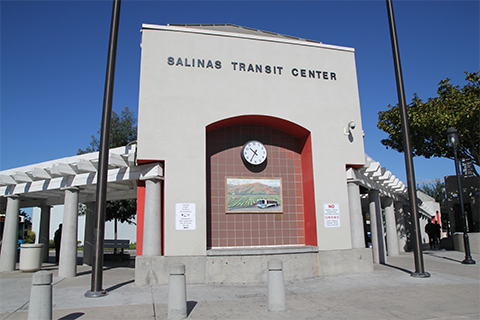 Salinas Transit Center Improvement Project
Proyecto de Improvisación de la Salinas Transit Center
Salinas Transit Center Improvement Project Brochure
Weekly Update / Noticias semanal
March 11, 2019 / 11 marzo 2019
March 12

Electrical work begins.

Electronic bus arrival signs near the customer service window will be
temporarily removed before construction.

12 de marzo

Comienza el trabajo eléctrico.

Las señales electrónicas de llegada al autobús en la ventana de
servicio al cliente se eliminarán temporalmente antes de
construcción.

Look Ahead / Mirar adelante
March 28

Boarding gates 8 and 9 will be closed, see customer service window
for new gates affecting lines 21, 23, 25, 47, 56, 82, 86, and 95.Public restrooms will be closed, a temporary portable toilet will be
available, construction fencing will be installed.
28 de marzo

Las puertas de abordaje 8 y 9 se cerrarán; consulte la ventana de
servicio al cliente para ver las nuevas puertas que afectan a las
líneas 21, 23, 25, 47, 56, 82, 86 y 95.Se cerrarán los baños públicos, se dispondrá de un baño portátil
temporal, se instalarán cercas de construcción.