Overview
Welcome aboard from all of us at Monterey-Salinas Transit (MST). Our goal is to provide Monterey County residents and visitors with high-quality transit service. If you have any questions or would like help planning your trip, please call us toll free at 1-888-MST-BUS1. We'll be glad to assist you!
Download the MST Rider's Guide
MST provides bus service to the greater Monterey and Salinas areas, as far south as Paso Robles and as far north as Watsonville. Service originates from two primary locations–the Monterey Transit Plaza, in downtown Monterey, and the Salinas Transit Center, in downtown Salinas. From these locations, the bus lines branch out like spokes on a wheel.
Transit Centers and Exchanges
Boarding Locations
Monterey Transit Plaza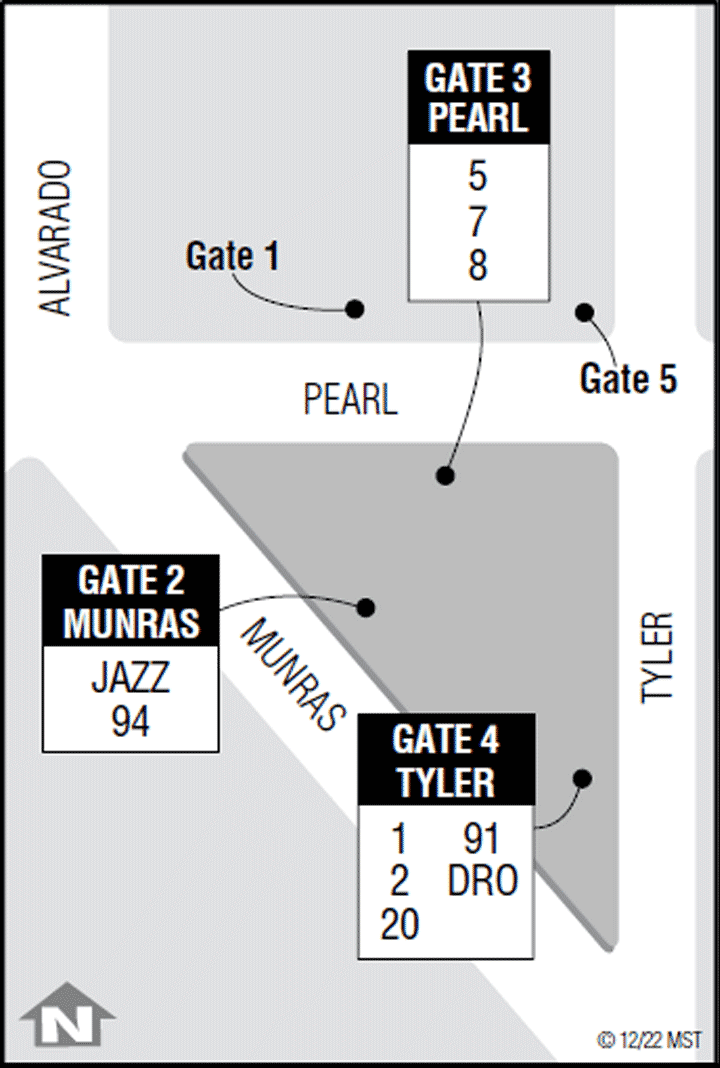 Salinas Transit Center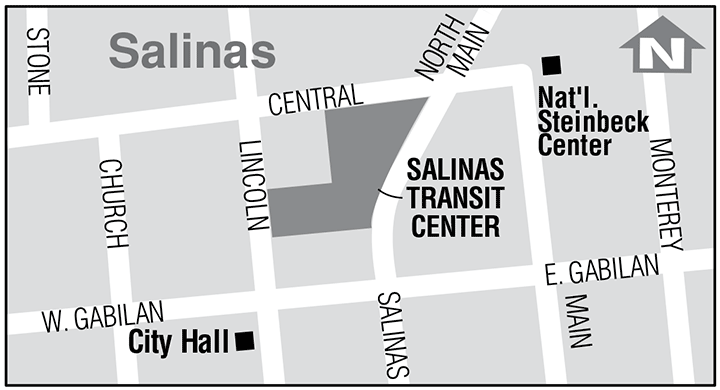 Marina Transit Exchange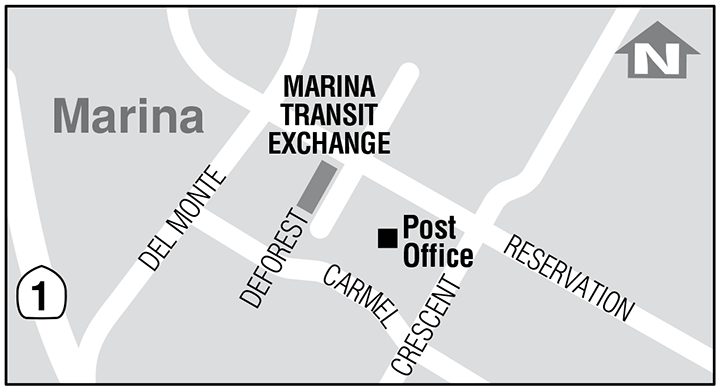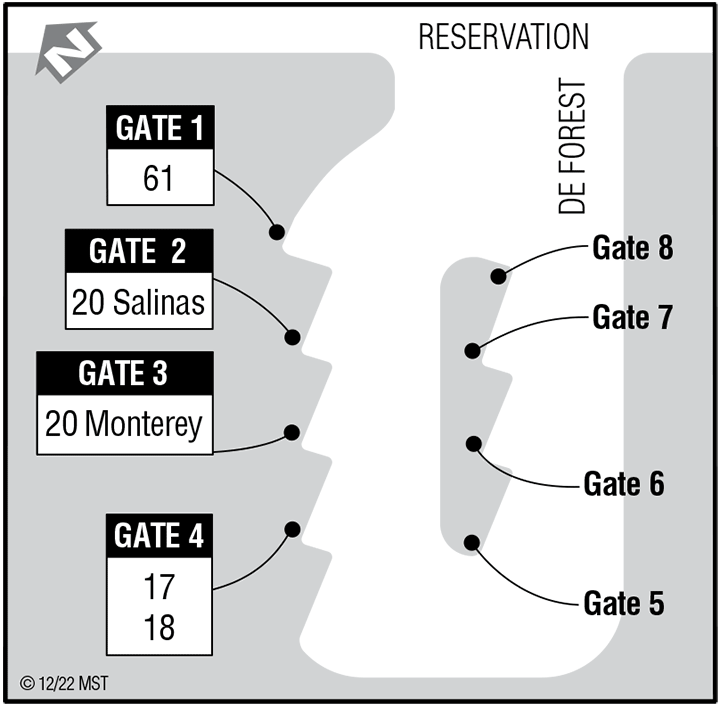 Sand City Station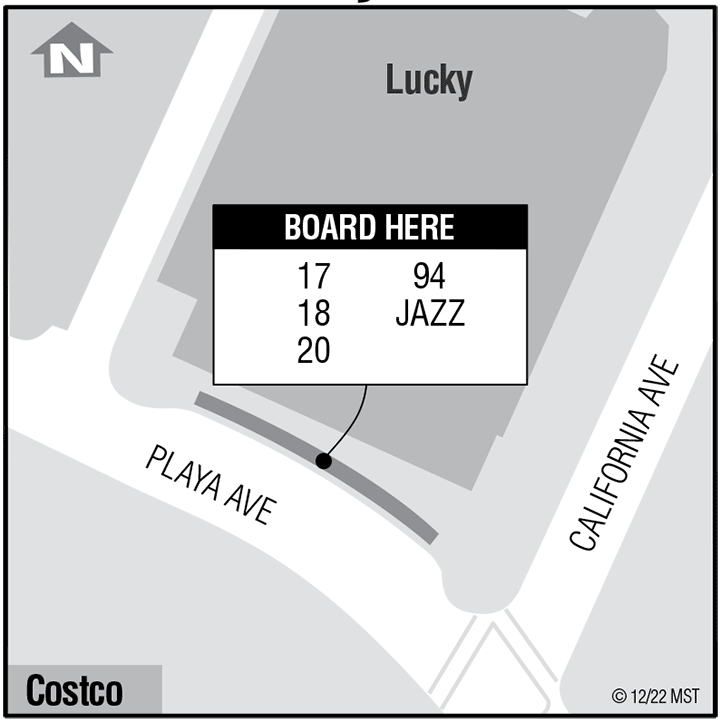 Del Monte Center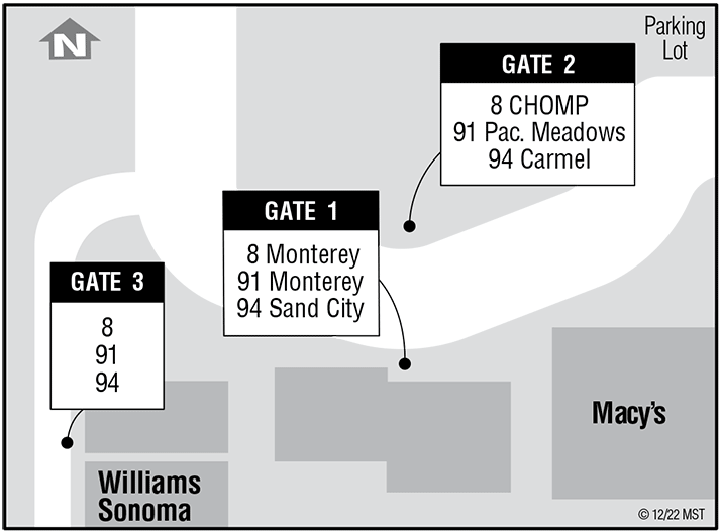 Tyler St. & Franklin St.
Carmel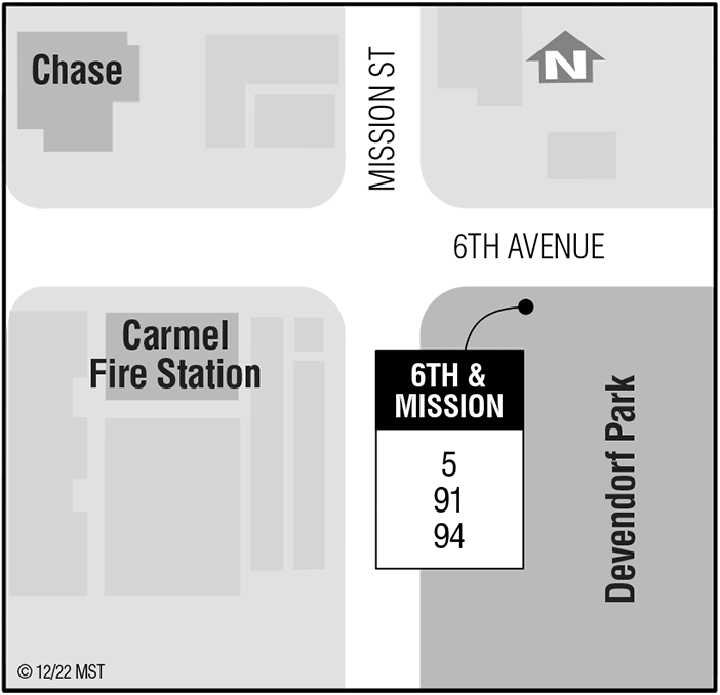 Watsonville Transit Center


North County Transit Center (Paso Robles)

How to Ride the Bus
The following steps will answer some questions and help make your trip a pleasant one.
1. Where do I catch the bus?
Bus stops are identified with an MST sign. Check the sign for which bus lines stop there.
Signal the coach operator to stop by standing up at a bench or shelter when the bus approaches. Please be at the stop to signal that you want to board.
Arrive at your stop a few minutes early so you can be in place to signal the bus. Have your fare, pass, ticket, or method of contactless payment ready when boarding. Buses stop only at designated MST stops.
2. Which bus line do I take?
See the spoke maps to determine which bus lines will take you to your destination. You may need to transfer from one line to another to reach that destination. See boarding location diagrams.
Identify your bus by looking for the bus line number and direction in the sign above the windshield.
Buses headed toward a transit center or transit exchange will say Salinas, Monterey, Marina or Edgewater. Buses headed toward other destinations will state the furthermost stop in that direction. For example:
Before boarding, check the sign to make sure it is the bus you want to take. If you are not sure, ask the coach operator to help you.
3. When will the bus arrive?
The schedules for each bus line are available on this website. They are listed by line number. Please see the maps and schedules section.
Each line has a map and departure schedule with timepoints for several stops along its route. The buses travel through the schedule from the left to the right. The timepoints in the schedule correspond with the timepoints shown on the map. To know when to be at a stop that is between two timepoints, use the timepoint before your stop.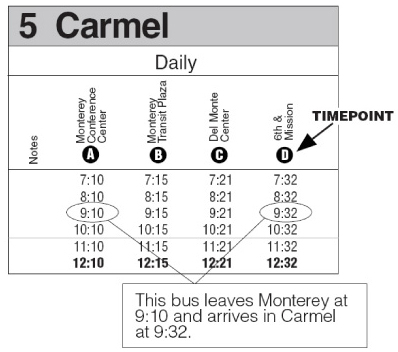 4. How do I pay?
On all MST buses, you can use cash, GoPasses, a GoCard, or Visa and Mastercard contactless-enabled bank cards and mobile wallets. Have your payment ready when you board. Cash goes in the farebox. Swipe your GoPass or tap your GoCard on the farebox. Tap your contactless bank card or mobile wallet on a payment reader. If you are using a discounted fare (youth, seniors, disabled, Medicare card holders, and active duty military), the coach operator may ask to see your ID.
5. Where do I sit?
After paying your fare, quickly move to a vacant seat. Please be aware that seniors and disabled persons have priority to the seats directly behind the coach operator. If all seats are taken, hold on to the grab rails.
Please offer your seat to someone who may have difficulty standing on a moving bus if you are able to stand comfortably.
6. Leaving the bus
Watch for your destination or ask the coach operator to call it out as the bus approaches that stop.
Signal the coach operator that you wish to get off at the next stop by pulling the cord above or between the windows.
When the bus stops, get up and exit through the rear doors when possible. If you tapped a payment reader to pay your fare with a contactless bank card or mobile wallet, don't forget to tap off at the front of the bus before you exit.