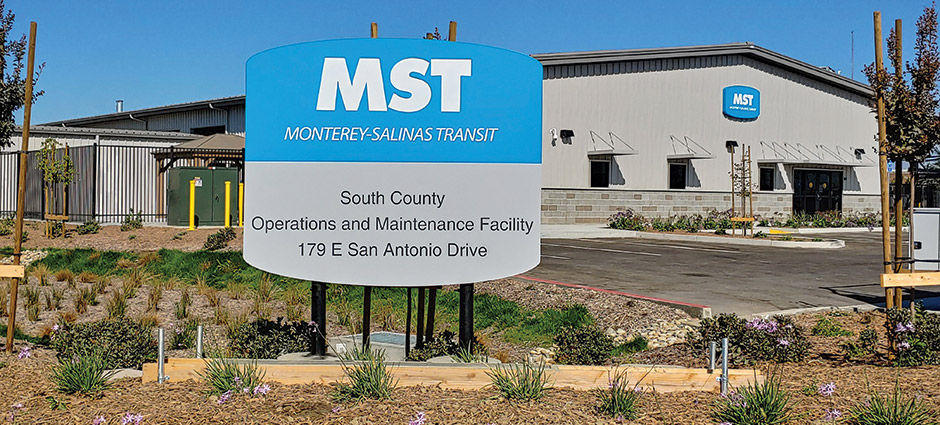 MST Opens South County Operations
and Maintenance Facility
MST cut the ribbon on its South County Operations and Maintenance Facility in October and brought it into full operation in December.
Funding Firsts
MST's South County facility is the nation's second to be funded and first completed through the Build America Bureau's Transportation Infrastructure Finance and Innovation Act (TIFIA) Rural Project Initiative. Using a TIFIA loan saved MST approximately $5 million in interest payments, when compared with traditional private financing. Additional federal funds, State of California SB 1 funds, TAMC Measure X dollars and other local contributions also supported the project.
Going Green and Doing Good
Starting its South County routes in King City eliminates the need to drive empty buses to and from MST facilities in Salinas and Monterey. Taking those 45- to-60-mile trips off the daily schedule will cut 900 tons of greenhouse gas emissions per year, which is equivalent to 163 homes' electricity use for one year. While operating more efficiently, MST will also save money and time by decreasing labor costs and reducing vehicle wear and tear. The agency can redirect those resources into enhanced South County services.
The King City facility was also built for future rooftop solar panels, along with charging stations for electric and zero-emission fleet additions.
Planning was swift for this first-of-its kind project. Securing funds, and completing construction in just 13 months required help from local, state and federal partners. Thanks to their shared vision and collaboration, MST is now better positioned to:
Fill transit gaps in underserved South County communities
Provide vital links for essential jobs, medical care, education and shopping
Expand mobility options for low-income residents, veterans, seniors and individuals living with disabilities
Launch a job-training program together with Hartnell College
Reduce congestion on US 101
Protect the environment by reducing the number of miles travelled and trips taken
"Projections show continued population growth in Monterey's South County cities, and MST is excited to grow with the region. This facility helps us better meet evolving customer needs while reducing overall environmental impact."
– Lisa Rheinheimer, MST Assistant General Manager
MST's South County Operations and Maintenance Facility By the Numbers:
900 Tons
Annual greenhouse gas emissions eliminated by starting MST routes in King City
35 Jobs
MST roles based at the new facility, with more expected as operations expand
$13.5 Million
Total project construction costs
190 Jobs
Employment created through direct and indirect construction activities
$77.5 Million
Economic return to local communities
11,000 Square Feet
Maintenance building size
40 Buses
Number of vehicles that can be operated and maintained in King City