Fort Ord Building Demo Moves Forward
MST managed the removal of several structures on the former Fort Ord in late 2021. The work eliminated environmental hazards and paved the way for new opportunities.
Why Now?
MST and the Transportation Agency for Monterey (TAMC) are among several local agencies and jurisdictions that received property during the Fort Ord closure process. Before its 2020 sunset, the Fort Ord Reuse Authority issued bonds to fund the removal of blighted former military buildings on some of those properties. That included a pair of adjoining MST and TAMC parcels located along a former rail line, in the city of Marina.
Through a shared funding agreement with TAMC, MST led building removal on the neighboring properties. Crews deconstructed a former bakery, along with cold storage facilities, warehouses and other abandoned structures.
What's Next?
TAMC is exploring mixed-use, transit-oriented development options for its former Fort Ord property. If a project moves forward, MST could lend support by bringing bus lines to its adjoining parcel.
Environmental Matters
Before demolishing the buildings, trained environmental teams removed asbestos and lead-based paints.
Crews recycled 95% of the non-hazardous material taken from the structures.
MST hired a beekeeper to relocate a honeybee colony found in the MST building.
Unexpected Finds
One former military structure contained 16 inches of natural cork sandwiched between two eight-inch concrete layers. The materials served as cold storage insulation, and likely would have doubled as protection for individuals using the building as a fallout shelter.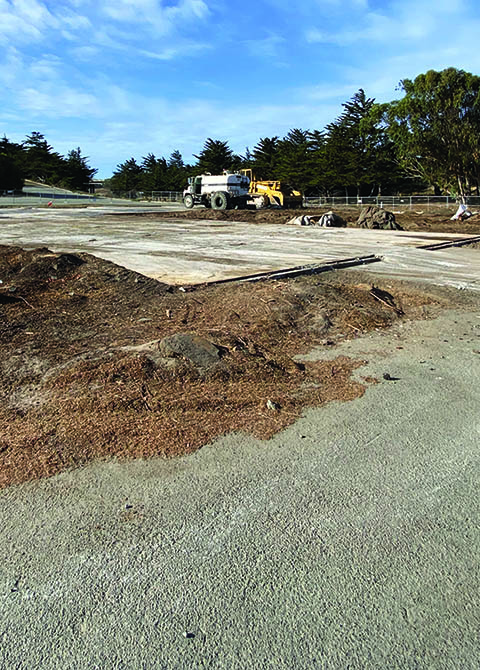 "The Fort Ord demolition project makes a subtle, yet significant impact. Dismantling those dilapidated buildings removes asbestos and lead-based paint from the landscape, while introducing more welcoming views for travelers on the highway and adjacent bike path."
– Lisa Rheinheimer, MST Assistant General Manager