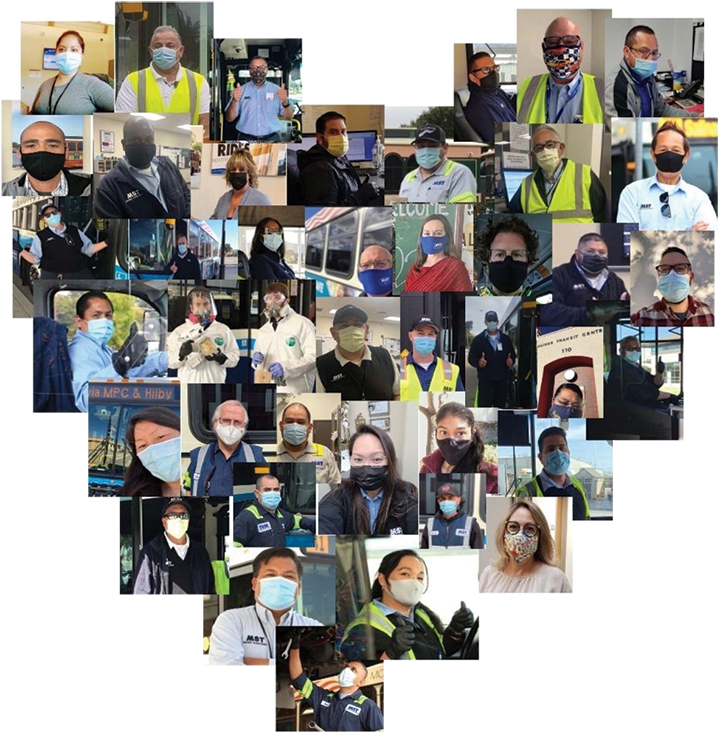 2021 Employees of the Year
Each year, for the past 30 years, MST has selected a single employee whose commitment, dedication, and service to the community made them eligible to receive the honor of Employee of the Year. 2021, and everything that came with it, presented us with many unique challenges including how to identify a single employee for this honor. As we moved from assisting our community in responding to the COVD-19 pandemic toward helping our local communities in their economic recovery, all areas of MST were put to the test. Throughout the year our employees were enforcing federal face covering mandates, promoting the importance of vaccinations, restoring services including the MST Trolley, planning better services for the future, deploying new, zero-emission buses, and constructing new facilities. All of this, while showing up every day to serve our community by providing safe, affordable, convenient public transportation.
It took the entirety of Team MST to perform at such high levels in this most unusual of years. And for this, we recognize every member of TEAM MST as our 2021 Employees of the Year!
2021 Employees of the Month
January – Matthew Deal
February – Charles Coleman
March – Linda Andrada
April – Emma Patel
May – Tiziano 'Tim' Minelli
June – Ezequiel Rebollar
July – Reina 'Ana' Diaz Villanueva
August – Ruben Gomez
September – Jarred Augusta
October – Christine Church
November – Abel Diaz
December – Oscar Lemus